– by David Kinnear
As kids we used to play musical chairs at birthday parties and church socials. While you're laughing about that, think about the potency of the analogy for the legal industry. Within the next 3-5 years, with '20 being a watershed moment, there simply won't be seats left for everyone – and the competition for those that are left will be fierce. Legal innovation is the hot topic du jour. Even if some of the so-called innovation in question is as temporary and insubstantial as froth on a beer, there's enough that is serious. It has permanent implications for the legal sector and those working in it.
Legal innovation may not have mattered so much 5 or 6 years ago – it was easily brushed off – but now it does. There is no ignoring it.
A while back I had spoken with a senior partner of a major law firm about their strategy on legal technology adoption – the response was interesting and very telling at that time (and since): "We don't want to the first but, I can tell you, we won't be third." Similarly, the appetite for innovation has grown markedly amongst general counsel.
If legal technology is the face of innovation then the substantial uptick in investment cannot be ignored.
The legal industry "quickening" is occurring in a remarkably similar manner to how each of the HRO and BPO markets unfolded – attaching to the fundamental premise that we can deliver services "better, faster and cheaper" with technology and labor arbitrage applied. That phrase has been ridiculed by some, rejected by many and consciously ignored by others. But it doesn't go away. In a global economy now driven by technology and data, it's hard to be a standout for manual processes and related time valuation techniques that worked 10, 20, 30 years ago. Buyers want to know what you can do today – using today's resources and techniques.
There is a fundamental premise that we can deliver services "better, faster and cheaper" with technology and labor arbitrage applied – it is yet to be proven wrong. And the legal industry is no exception.
For those who were involved in these momentous "lift and shift" periods of change, no-one forgets the day that one of the Big Four announced its entry into the HRO / HR services market.
Like a sonic boom, the entry of the Big Four was heard around the industry and it was, in reality, the starting pistol for an arms race built around scale and technology – then played out in Boardrooms and on golf courses all over the marketplace. This time it's the legal sector.
In recent months, big "consulting" players have given a glimpse of their plans for the legal space – and one can only expect that others will add their voices also. In just the last few days, the largest law firm in the world kicked off a roll-up expansion strategy in the US – tapping into major "local" markets. Add to that the early whisperings of legal market entry from the largest e-retailer on the planet whose recent IP service offering looks remarkably like its earlier move into the grocery sector (via the acquisition of WholeFoods).
Between these organizations there is immense market-moving power – unlike anything that the legal industry has seen before.
Innovation takes many forms and too often it's confused with simply being yet another shiny "app". Sometimes it's having the scale and technical leverage to deploy solutions for industries that others cannot by reason of being simply too small. Financial services is full of such examples – the outsourcing or alternative sourcing of support services that fall outside the "defensible core". Sometimes – and there are some great examples emerging – it's the sourcing agility that new technology can provide, helping new efficient organizations to emerge and act without the legacy incumbrences and costs of traditional delivery models. There can be no mistaking the upheaval starting to occur in the delivery of legal services by law firms – several of whom have turned a lot of focus on flexi-delivery models for their human capital assets. It speaks to the dis-assembly of traditional legal models that is happening – beckoning a future built around greater professional identity for the individual and an unprecedented level of agility.
Sometimes – and there are some great examples emerging – it's the human capital sourcing agility that new technology can deliver. It's helping new agile, efficient organizations to emerge and act without the legacy incumbrences and costs of traditional delivery models. It's customer-centric law without a lot of the usual baggage.
On any view, now is a good time for organizations in the legal sector to think long and hard about where and how they fit into the new world that is emerging. There is an irreversible wave of change happening – it gathers momentum every day. Now it's not a question of being first, second or third – you just don't want to be last.
When the music stops, just be sure there's a chair – and you're sitting in it.
David T. Kinnear
Barrister | GC | Mediator | Publisher
London & New York
---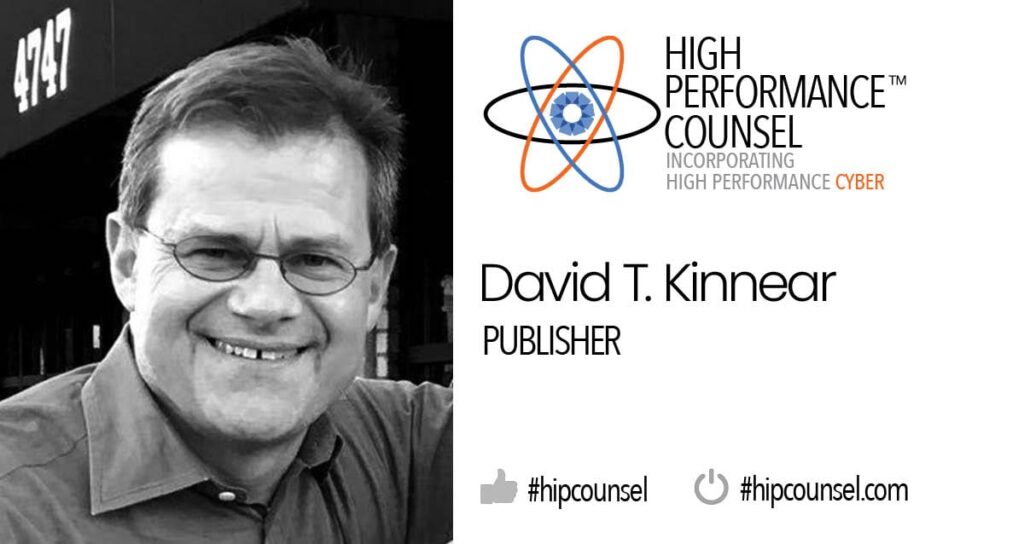 ABOUT DAVID
David is a Private Client Barrister, Fractional / Interim General Counsel (GC) and Accredited Civil & Commercial Mediator. He is a Non-Exec. (NED) / Advisory Board member and the Publisher of High Performance Counsel ("HPC"). He is a co-founder and director of Small Claims Portal, a legal technology and services company delivering a turnkey solution for millions of businesses and consumers dealing with small claims litigation. Additionally, he is a co-founder of a legal technology company focused on no-code legal process automation, which was successfully acquired by a leading legal services provider.
David brings 20+ years of business and legal experience to the table for his clients. He provides confidential, cost-effective and timely legal services – advising clients in a variety of civil and commercial matters and representing clients before Courts, Government Regulatory Bodies and in other hearing formats, such as negotiation, arbitration, mediation and adjudication. Instructions may be accepted directly or via chambers for UK and international matters.David spent his early years in private litigation practice – largely focused on substantial construction, engineering and commercial real estate disputes. David worked for leading law firms Pinsent Masons and Linklaters in London before moving to New York to join Credit Suisse. As Counsel and Chief Administrative Officer, he helped negotiate & execute the relocation of Credit Suisse into its (now) NYC global HQ – the iconic Eleven Madison Avenue.
David has directed major global outsourcing, shared sourcing, HR operations & process efficiency initiatives including the digitization of records, the global roll-out of PeopleSoft HRMS & Y2K Compliance. He has worked extensively in the UK, US, Philippines, India and China markets in the areas of data management, HR and BPO – and most recently LPO, LegalOps.
David graduated from the University of Manchester with Honors in Law and Bar School (College of Legal Education) in London, and has been a member of Middle Temple since 1989.
Member: Bar of England & Wales, American Bar Association, New York State Bar Association, New York City Bar Association, Federation of Integrated Conflict Management, The Chartered Institute of Arbitrators, The Society of Mediators, The Civil Mediation Council, and the Mediator Network.
---

ABOUT HIGH PERFORMANCE COUNSEL (HPC)
Founded by international lawyer and successful legal technology founder, David Kinnear, High Performance Counsel (HPC) is the leading business media resource covering the modern legal industry and the people, technology and economic forces driving its future. Described as the "voice of the modern legal industry" HPC provides world-class media coverage via one-to-one feature interviews with leading legal professionals and the publication of key insights via articles, white papers and industry commentary.Visit us online here:High Performance Counsel
Follow us on Twitter:https://twitter.com/HipCounsel
Connect with David Kinnear on LinkedIn:https://www.linkedin.com/in/davidkinnear/
Connect with HPC on LinkedIn:https://www.linkedin.com/company/hipcounsel
Join our mailing list here