– by David Kinnear
Even before COVID-19 struck, the legal industry faced a dilemma. In some quarters, innovation has been thriving. In others, it has looked wheezey and out-of-breath. There have been some significant advances in legal technology – and investments that evidence its popularity – in the private sector. As is often the case, the public sector has a tougher sell to get the funds needed to deliver significant change – yet the need is no less urgent or opportune.
What passed for delivery of legal services 20 years ago no longer cuts the mustard.
The expectation of the average consumer has changed – and not just modestly. With the maturation of tech in mainstream, consumers have become used to data driving choices – and tech delivering on its promises. We've come a long way since Steve Jobs introduced the iPhone and, more specifically, the "app". Today's world is increasingly and largely driven around tech.
Court hearings via video won't butter the parsnips for long. 
It's a curious thing in life – sometimes termed the boiling frog effect. A situation can be happily swimming along until that very moment at which the issue, the crisis becomes rapidly and urgently apparent. Systems of administration trundle along and consumers deal with them out of necessity moreso than out of desire. Until they break in the face of a crisis or simply in the face of volume for which they were not designed, equipped or perhaps even intended.
Better, faster, cheaper – wins. 
In every chapter of change there is the temptation to paper over the cracks – to kick the can down the street once more time – to delay the inevitable. Yet students of history know that eventually time tells all – and students of modern global business will affirm that better, faster, cheaper – wins. Fighting, delaying change is time and effort wasted.
Change doesn't happen overnight like it does in the movies.
Change takes time. Designing new systems of administration to replace earlier versions takes time – and it takes vision to see the sheer scale of what may be required. When they first built the M25 motorway, it was controversial for being so bold and so big – yet it proved to be too small from the very first day it was opened and they've been expanding it since. It's critical to have adequate future vision when planning and designing for the future.
The pace of change is accelerating.
Notwithstanding COVID-19 – indeed, perhaps even moreso because of COVID-19, the pace of change is accelerating in the legal industry and the audience it serves. Almost overnight, millions of lawyers have come to terms with remote working and video functionality. Turns out, it works and it's just not that hard. The legal departments of countless businesses have turned to the question of digital records such as contracts management, remote access and the necessity of being able to operate in this new lockdown environment. With the arrival of vaccines, it's reasonable to expect a return to the physical workplace for many over time – a solace from yet another day working at the kitchen table or in the garden shed aka the home office. Regardless, some of the efficiencies delivered by technology and un-earthed by COVID-19, are here to stay. There's no going back. The efficiency genie is out of the bottle.
It's time to plan for the future but also embrace the here and now in what we can already deliver.
The future is bright. Yet the present can be more than just an inconvenience or encumbrance. There is so much we can do right now to improve the user experience for millions of individuals and businesses. The time is now to seize the moment in improving users' interaction with the legal ecosystem.
A glimpse of the future, today: Small Claims Portal.
There are numerous initiatives designed to improve access to justice and de-frag the experience for users. One such is Small Claims Portal which provides a simple, modular and fixed price menu for prospective users of the small courts system. It may be that the underlying court interaction eventually becomes more digital and self-service over time but this practical example shows just how painless we can make the experience even today.
David T. Kinnear
Barrister | GC | Mediator | Publisher
London & New York
---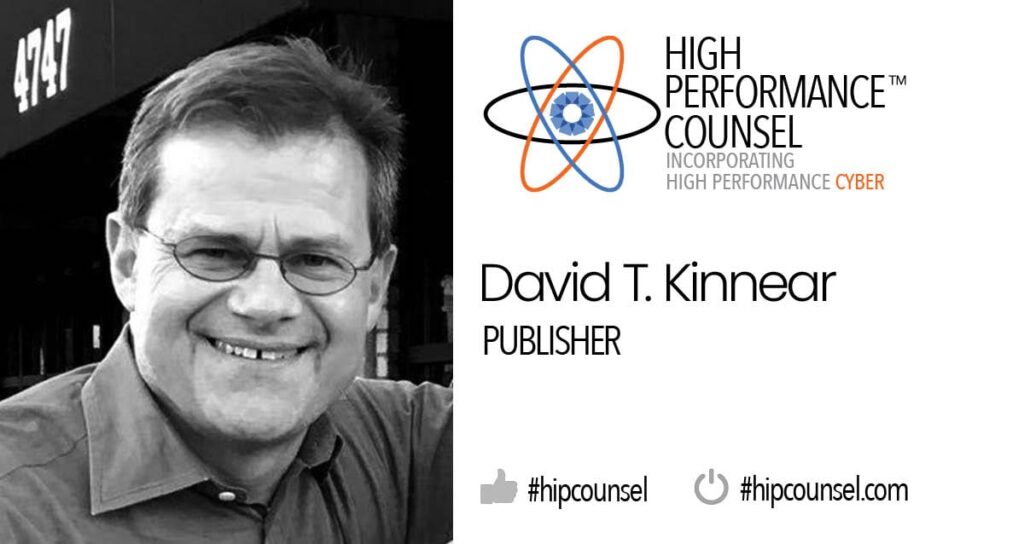 ABOUT DAVID
David is a Private Client Barrister, Fractional / Interim General Counsel (GC) and Accredited Civil & Commercial Mediator. He is a Non-Exec. (NED) / Advisory Board member and the Publisher of High Performance Counsel ("HPC"). He is a co-founder and director of Small Claims Portal, a legal technology and services company delivering a turnkey solution for millions of businesses and consumers dealing with small claims litigation. Additionally, he is a co-founder of a legal technology company focused on no-code legal process automation, which was successfully acquired by a leading legal services provider.
David brings 20+ years of business and legal experience to the table for his clients. He provides confidential, cost-effective and timely legal services – advising clients in a variety of civil and commercial matters and representing clients before Courts, Government Regulatory Bodies and in other hearing formats, such as negotiation, arbitration, mediation and adjudication. Instructions may be accepted directly or via chambers for UK and international matters.David spent his early years in private litigation practice – largely focused on substantial construction, engineering and commercial real estate disputes. David worked for leading law firms Pinsent Masons and Linklaters in London before moving to New York to join Credit Suisse. As Counsel and Chief Administrative Officer, he helped negotiate & execute the relocation of Credit Suisse into its (now) NYC global HQ – the iconic Eleven Madison Avenue.
David has directed major global outsourcing, shared sourcing, HR operations & process efficiency initiatives including the digitization of records, the global roll-out of PeopleSoft HRMS & Y2K Compliance. He has worked extensively in the UK, US, Philippines, India and China markets in the areas of data management, HR and BPO – and most recently LPO, LegalOps.
David graduated from the University of Manchester with Honors in Law and Bar School (College of Legal Education) in London, and has been a member of Middle Temple since 1989.
Member: Bar of England & Wales, American Bar Association, New York State Bar Association, New York City Bar Association, Federation of Integrated Conflict Management, The Chartered Institute of Arbitrators, The Society of Mediators, The Civil Mediation Council, and the Mediator Network.

ABOUT HIGH PERFORMANCE COUNSEL (HPC)
Founded by international lawyer and successful legal technology founder, David Kinnear, High Performance Counsel (HPC) is the leading business media resource covering the modern legal industry and the people, technology and economic forces driving its future. Described as the "voice of the modern legal industry" HPC provides world-class media coverage via one-to-one feature interviews with leading legal professionals and the publication of key insights via articles, white papers and industry commentary.Visit us online here:High Performance Counsel
Follow us on Twitter:https://twitter.com/HipCounsel
Connect with David Kinnear on LinkedIn:https://www.linkedin.com/in/davidkinnear/
Connect with HPC on LinkedIn:https://www.linkedin.com/company/hipcounsel
Join our mailing list here