Perhaps it is because it is silly season, or perhaps it is the calm before the storm. After a period of intensity which began with the rapid move to online courts due to Coronavirus in March of last year, it has been a quiet summer for technological reform across the courts system of England & Wales. But even in this quiescent period, the question remains: what next?
The Lord Chief Justice's comments in March about returning to in-person hearings and less reliance on remote technology still linger in the mind. The Spending Review, coming up in the Autumn, is a golden opportunity for the government to offer more funding for court modernisation and digitisation. The Lord Chief Justice has also been at pains to recognise the necessity of this. As Covid-19 goes from a constant headline to a background noise which we have all accepted we must live with, the latter portion of this year looks set to be where the 'battle of ideas' really kicks off. Will remote working and digitisation become a properly funded, sustainable solution to bring the profession into the 21st Century, or will it be a gewgaw, a line to be trotted out at will without any real conviction?
This is not to say that remote working and technological improvements can solve everything – it is imperative that those cases which require in-person attendance are able to be facilitated. Cases with complex evidence, vulnerable clients, and – crucially — jury trials will all need to be heard in the flesh, and a robust, modern court estate is required to ensure this can be done.
In commercial claims, ADR proponents hope that online mediation and conciliation can assist in thinning the backlog and getting cases heard and resolved more quickly. LawtechUK's recently published feasibility study proposes an online platform for the use of SMEs that could enable 'disputes to be resolved within six to eight weeks, significantly faster than through the court process, [which] deploys a non-adversarial methodology to enable business relationships to be preserved and provides a digital self-service experience, innovating on how disputes can be resolved'. Moreover, '[t]he service would sit alongside existing court infrastructure, so businesses would elect to resolve their disputes within the platform instead of starting legal proceedings in court'. Online Dispute Resolution, or ODR, is a key piece of technology that could facilitate a more streamlined and efficient despite resolution process, whether in or out of court – if it can be properly deployed.
In the privately funded space, no time has been wasted by legal tech firms in consolidating their positions. Mergers & acquisitions, which in the legal tech space hit a three-year peak in Q3 of last year, continue to be an enticing prospect for firms big and small who wish to consolidate and attract new business. It was recently reported that Kira Systems, a legal AI entity that was founded near the very beginning of the industry itself, has been acquired by Private Equity-backed Litera. This ruffled some feathers in the industry, but the benefit to both companies is clear – Kira gets access to a wider customer base, while Litera can now offer advanced machine learning workflow tools. PE-backed lawtech companies are on the march – not one week later, it was announced that Law Business Research had acquired Docket Navigator, a tie up between one legal information and analytics firm and another. LBR, as it is known, has been backed by Levine Leichtman Capital Partners since the beginning of 2018.
​When it is not M&A, firms are joining forces more loosely in pursuit of standardisation. A coalition of top law firms — Latham & Watkins, Cooley, Fenwick & West, Goodwin Procter, Gunderson Dettmer, Orrick; and Wilson Sonsini Goodrich & Rosati – have come together to offer a standardised way of managing capitalisation data for start-ups. Whilst this does not spell the end of alternative providers and there are plenty of seats left at the table, unions of this calibre surely demonstrate that law firms are willing to form alliances in order to dominate a niche but crucial industry. Reynen Court has similarly been working on a standardised model contract for the procurement of tech solutions, aided by a consortium of top law firms including Clifford Chance and Latham & Watkins.
Where it has not been so quiet over the summer has been in the cybersecurity area – ransomware attacks have been on the rise in the legal sector and, following the targeting of barristers' chambers, the legal profession has seen a nebulous threat solidify before its eyes. Now the question is on how best to combat this threat. The Bar Council and Law Society recently released a joint statement, and it seems clear that robust cyber defence is going to be at the top of the list for chambers and law firm management.
As summer folds into autumn, the question of 'what next?' will ring in the ears of the profession. Legal tech providers are already on the move, but in the courts and the public sector it remains to be seen whether court reform will receive another much-needed boost of funding and renewed focus on modernisation and digitisation, or not.
The battle of ideas is about to begin…
All opinions my own.
---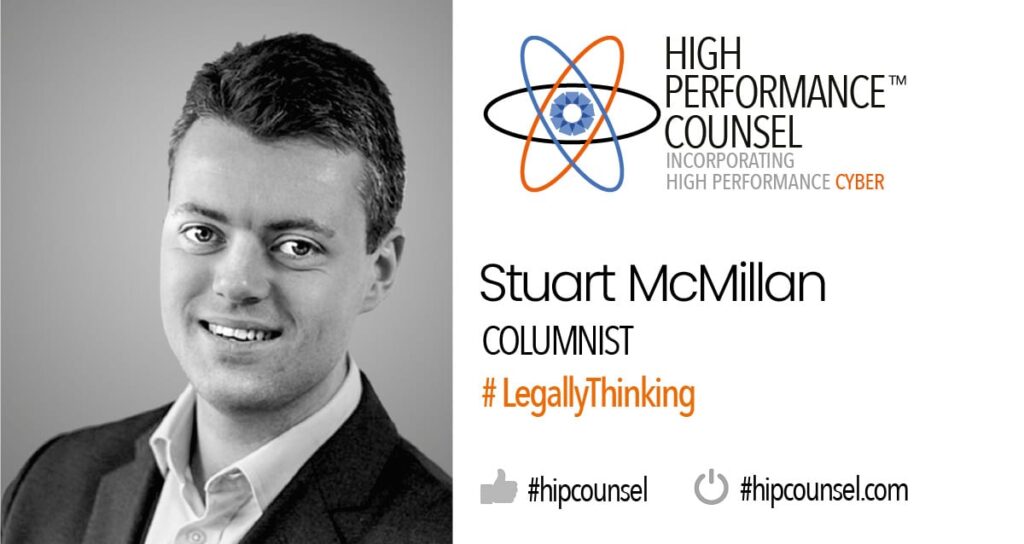 Stuart McMillan | Policy Analyst: Bar Council
---
Stuart's work at the Bar Council includes working on new and ongoing efforts to improve the practising lives of barristers. He works with HM Courts and Tribunals Service on their court reform programme and is responsible for the IT Panel, with a focus on new data regulations, LegalTech and AI, and the Alternative Dispute Resolution Panel, where he helps to promote the use of arbitration and mediation as effective methods of dispute resolution across the Bar.