When it comes to legal technology, the conversation often centres around who will offer the best iteration of a solution — who will master the software that allows firms to be more efficient without skimping on quality? Who will develop workflow strategies that mean the offices of a multinational law firm can communicate with each other seamlessly, breaking down barriers between lawyers in Birmingham and Beijing? Who will perfect data gathering tools that reduce the time needed to compile case information from a number of weeks to a number of hours? But in amongst all the competition, are there signs that legal tech is edging closer to a 'common language'?
Recently UK Legal Schema has unveiled a universal structured data format for the creation of legal documents — including smart contracts.  By creating a 'common language' to be used, it hopes to allow all users to interact with one another in a seamless manner. If one specific format for legal document creation catches on, it could mark a turning point for the legal tech sector. The idea in theory is not to be baulked at — uniformity means certainty, which is exactly what clients want from their lawyers.
You don't need to look far for further examples: OneNDA is looking to create a standardised, universal Non-Disclosure Agreement that can be used by all firms to speed up deals and increase transparency, whilst Changing Legal is looking to develop a shared legal taxonomy that can be drawn upon by all.
The courts system of England & Wales also seems to be aiming for something similar to a 'common language'. Initiatives like MyHMCTS in probate, divorce, financial remedies, family public law, and immigration and asylum appeals; and Common Platform in the criminal courts, demonstrate efforts towards a standardised case management platform for lawyers, court staff and administrators which can be accessed by all to save time and effort. The courts are also — albeit slowly — bringing e-filing online across the jurisdictions. CE-File, which has been rolled out over recent years, is currently only available in the High Court and above. However, the new Master of the Rolls, Sir Geoffrey Vos, has made clear his commitment to bringing the County Courts into the 21st Century by furnishing them with digital capability and eliminating what is currently a two-tier system. In the US, the situation appears to be much the same. Again, a uniform system could offer massive efficiency savings for lawyers, which they could then pass on to their clients.
For the regulators and the legislators, a common language can be seen in the search for a set of principles, and a rubric that will ensure legal tech can be adequately monitored. A paper from the Legal Services Board entitled 'how legal services regulation can foster responsible technological innovation' promises to determine which new technologies are 'socially acceptable' and wants a more 'proactive' approach from legal services regulators.
The UK Government has over the past 12 months unveiled no less than three initiatives aimed at standardising the world of data and digital: The Digital Regulation Cooperation Forum, the National Data Strategy, and the National AI Strategy.
A common language is equally part of the European project, with the European Union's commitment to a universal ethical framework for AI, its eIDAS, e-CODEX and eu-LISA projects still at the forefront of efforts on standardising the use of data and digital tech.
But don't speak too soon. Just when you thought it was all about coming together, there is still plenty of will to define tech standards by what others are not doing. The UK's Taskforce on Innovation, Growth, and Regulatory Reform (TIGRR) has proposed cutting loose from the EU-influenced, GDPR-based legislation that currently governs data in the country and opting for a hyper-proactive new framework that would encourage innovation. This move, it alleges, would move it away from the cautious approach adopted by the EU — which is embodied by the GDPR. This change would also, notably, entail taking a common law-based approach to data legislation, allowing it to flex based on evolving case law. For the big tech companies, there is equally still much to play for — outside of the legal sector, Google's proposed cookie-free tracking method has already been blocked by Amazon and its affiliates leading to a potential battle over who dictates user tracking protocol online.
Law firms and chambers seem similarly unwilling to be constrained by any kind of commonality. Whilst the benefits of a standardised form of e-contract and document production and a recognised taxonomy is obvious, it is understandable that legal services developers are not willing to throw in the towel on their own products when they believe they can bring clients on board. To adopt an extended metaphor, even if you cannot pick the ingredients that make the chocolate, you can still customise the flavour and choose the wrapper. The great debate over ALSPs continues unabated, and the outsourcing wars rage on.
Legal tech may be getting closer to a 'common language', but that does not mean the marketplace will become any less crowded or competitive. Even if some elements of legal tech become universalised, the debate over how law firms and chambers can augment their products and services to remain the most attractive prospect for their clients will continue. The innovation race is far from over.
All opinions my own.
---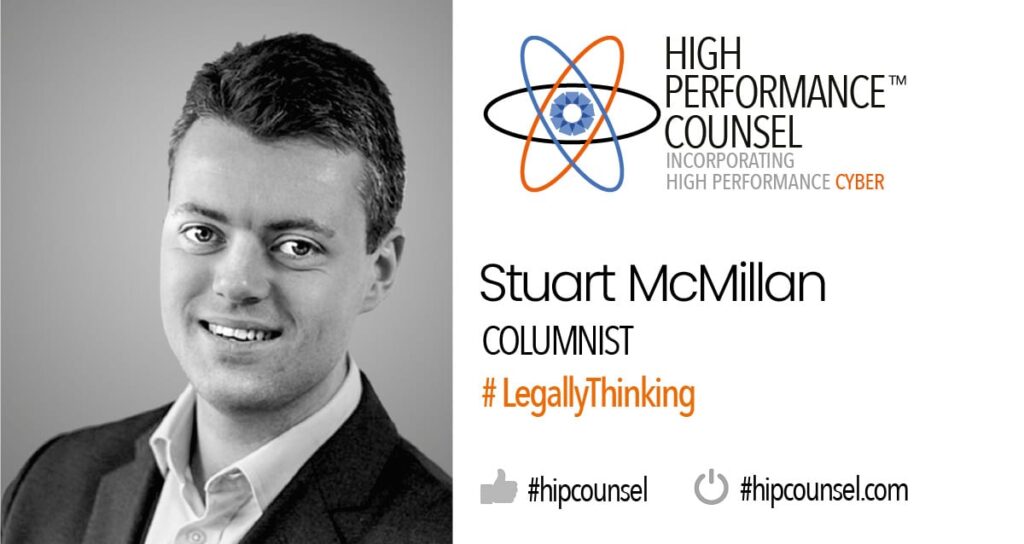 Stuart McMillan | Policy Analyst: Bar Council
---
Stuart's work at the Bar Council includes working on new and ongoing efforts to improve the practising lives of barristers. He works with HM Courts and Tribunals Service on their court reform programme and is responsible for the IT Panel, with a focus on new data regulations, LegalTech and AI, and the Alternative Dispute Resolution Panel, where he helps to promote the use of arbitration and mediation as effective methods of dispute resolution across the Bar.