The phrase 'remote working' has taken on a whole new meaning. Over the last year across the globe employees, business owners and professionals have managed organisations and portfolios whilst being miles from their base of operations. In reality, their personal computer has become their base of operations. We have been on the road to this reality for a long time, but perhaps we could never see how quickly it would accelerate, and how widespread it would become. The world is increasingly interconnected, but increasingly remote. So what about remote data?
In 2010, the ever prescient Professor Susskind heralded the rise of cloud computing because of its virtues for businesses both large and small. In the mid-1990s he prophesied that email would come to define legal working practices — and was ridiculed for it at the time — long before most lawyers saw its true potential. He has continued to see things coming before they actually hit the mainstream. Cloud computing as a concept is perhaps beyond our grandparents' wildest dreams, the stuff of science fiction. But its potential to revolutionise legal practice and management is only just being tapped.
Cost cutting, remote working and the quest for easier management has meant cloud services are being embraced in a big way by the legal community. But 'cloud computing' has become a term that can encompass various tools. It can be used to refer to a remote data infrastructure on which users might load their applications (Infrastructure as a Service); or a platform where people can develop their own applications (Platform as a Service); or a fully-fledged software for customer relationship management and other workflow applications (Software as a Service). Cloud services can be public, private, or hybrid.
Cloud computing is being deployed to the legal services industry via numerous innovative enterprises. For example, legal entity management software Athennian recently secured further funding to scale up its cloud software for its global client base who use it to automate traditionally manual tasks (the deal with its latest investor was done entirely virtually, by the way). vLex Cloud, on the other hand, allows law firms to pool their practitioners' documents in one single space, generating a library of information that the firm can feed off, allowing for a more efficient legal research process and pinpointing KM capabilities. This is twinned with NLP software to quickly pluck out the relevant data. Here lies the intersection of cloud computing and artificial intelligence.
It goes without saying that, when it comes to cloud computing, security and compliance is paramount. In the UK and Europe, legislation contained in the General Data Protection Regulation (GDPR) already exists to ensure basic data protection rights, but a framework to govern cloud computing has not been forthcoming. However, regulators like the Information Commissioner's Office (ICO) in the UK can come down heavily on firms that suffer data breaches and fail to report. In the US the CLOUD Act allows national law enforcement to request data stored on cloud servers even if they are in a foreign jurisdiction (albeit other stipulations apply before access is granted), but even the biggest providers of international public cloud storage, like AWS, do not seem worried. However, following the invalidation of Privacy Shield by the Court of Justice of the European Union (CJEU), each individual data transfer between the US and EU must now have appropriate safeguards provided for it, making public cloud services effectively unusable — plus EU-based legal organisations must now store their client data on servers located on the continent of Europe. But whether in the EU, US or elsewhere, it is likely to fall to internal law firm security to adequately protect its data. That might mean a private cloud platform where only authorised users can access data that is stored in the Cloud. Encryption is also good practice.
But whatever the security landscape the rise of remote working, the impact of Covid-19 on the legal industry, and a buoyant market for investment means cloud computing is likely to strengthen its hold on legal services. A report from 2019 states that, of the law firms it surveyed, 9% said they had already moved critical systems onto the cloud and 18% had plans to do so within the next 6-24 months.This is not to say that putting crucial data in the hands of third parties is not greeted with skepticism. 37% of firms said they would not move to the cloud in the foreseeable future, citing 'partner resistance' or because it was 'not our current model'.
It is difficult to see why most law firms would not at least countenance a partial move to cloud, given the risk-benefit analysis and the plethora of software on offer. Moreover, data loss or corruption can be combated by having a backup stored on another server via cloud computing. The potential job losses that cloud technology would incur through business automation is regrettable for governments and citizens, but it is difficult to argue that firms would not enjoy the projected cost savings on their wage bills.
As the industry learned with email in the 1990s, though the benefits are apparent, it may take time for organisations and business leaders to fully adopt the technology. While its full potential has yet to be realised, cloud computing for legal services seems here to stay.
All opinions are my own.
---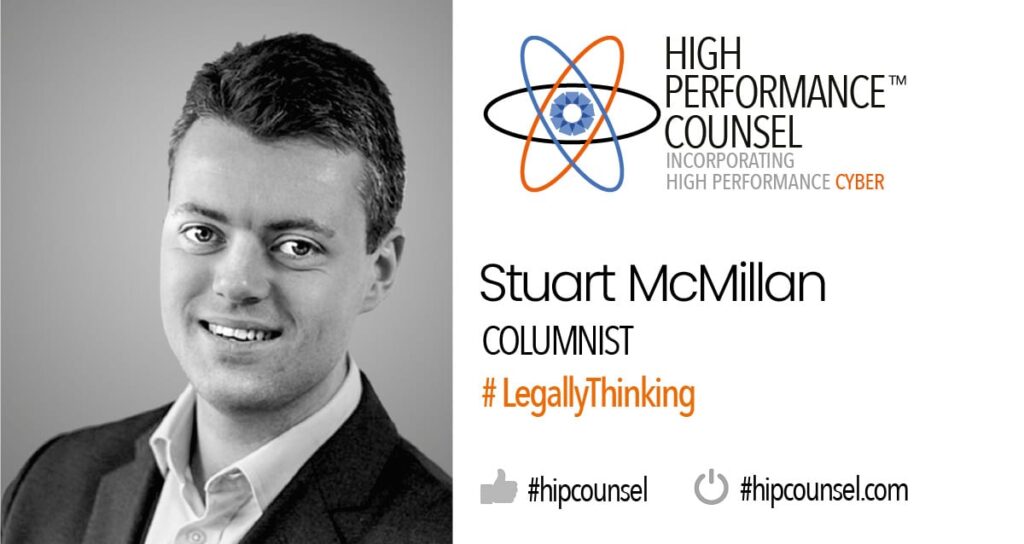 Stuart McMillan | Policy Analyst: Bar Council
---
Stuart's work at the Bar Council includes working on new and ongoing efforts to improve the practising lives of barristers. He works with HM Courts and Tribunals Service on their court reform programme and is responsible for the IT Panel, with a focus on new data regulations, LegalTech and AI, and the Alternative Dispute Resolution Panel, where he helps to promote the use of arbitration and mediation as effective methods of dispute resolution across the Bar.